Blockchance 2021 Insights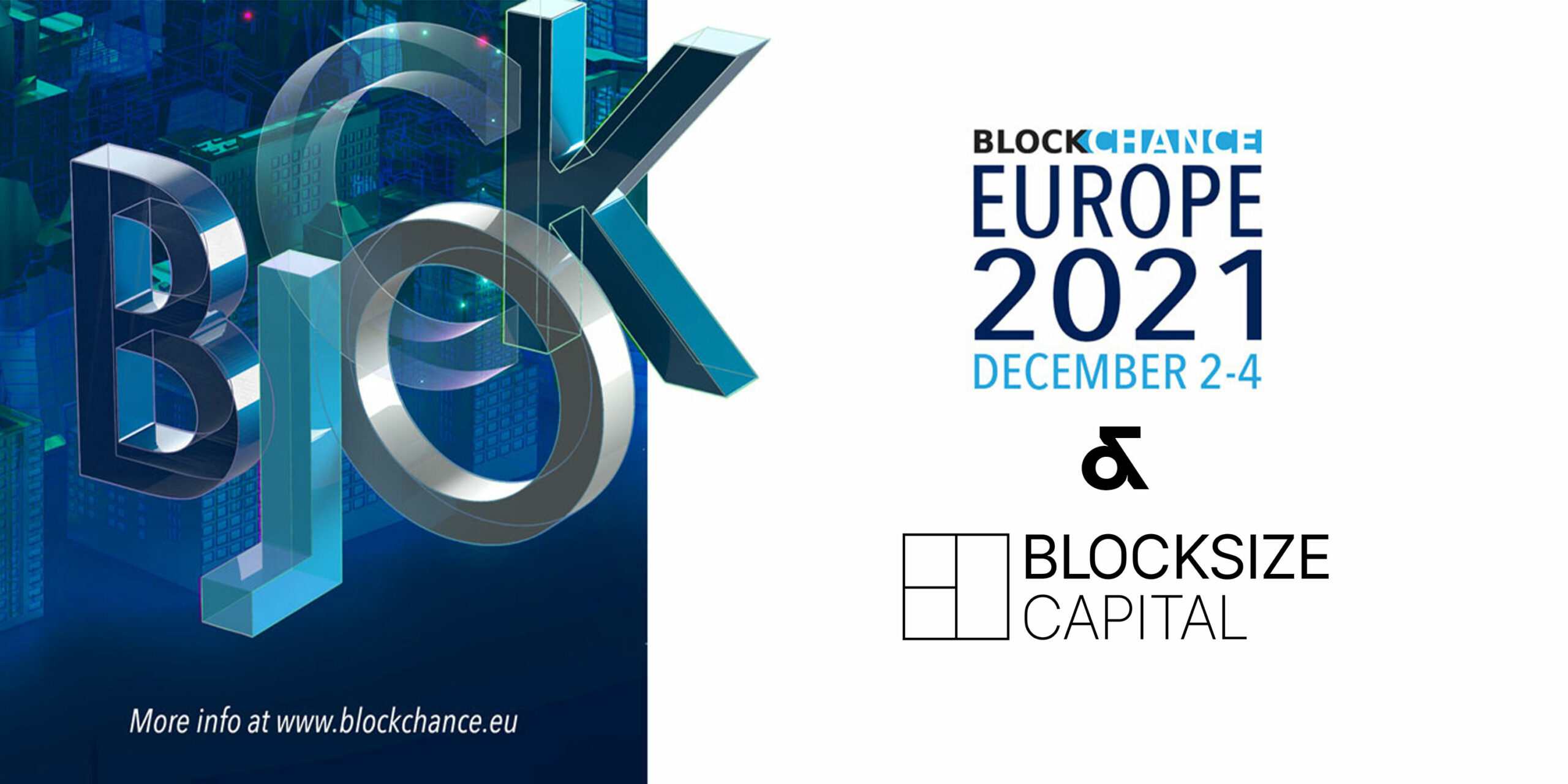 About the vision of Blockchance:
Blockchance Europe aims to introduce blockchain technology for a positive and sustainable future. In their own words and vision: "We live in a world where the availability of and control over data in economics, politics and private life are important factors for freedom, security, and independence. Blockchain technology can give us back control over it by allowing us to ensure the integrity, availability, and authenticity of data by the public domain." (https://www.blockchance.eu/vision)
It's been a success, and we are glad to say that Blocksize Capital has been a sponsor of this year's Blockchance conference, contributing to the mission of spreading the word about contemporary economic trends, social changes, and opportunities brought about by disruptive blockchain technologies in this 3-day matchmaking and networking event.
And it has been nothing short of that. Notable exhibitors, leading-edge speeches, inspiring panels, and eager guests prevailed at the Handelskammer in Hamburg from December 2 to December 4, 2021. Despite the stringent government regulations in Germany, the organizers of this year's Blockchance Europe have managed to organize and host one of the largest crypto and blockchain conferences in Europe, where over 1500 attendees, 120 speakers, 150 investors, 300 companies, and 50 exhibitors had the opportunity to meet and exchange great ideas for a more positive future, both in-person and virtually.
Blocksize Capital at Blockchance
This event has brought us invaluable opportunities to get to know like-minded individuals and expand our network even further. Our physical and virtual booths, as well as our 'Merkur Stage' presentation at the conference, have attracted a lot of attention and interest from curious visitors from all walks of business: c-levels, entrepreneurs, investors, and students alike. Our flexible and transaction-based subscription model for our high-performance SaaS solution has been especially of high interest to institutional investors, thanks to the reduction of initial implementation costs we are offering for our clients.
Our goal at Blockchance 2021: bridging the gap between traditional financial institutions and digital assets
The goal of Blockchance is to bring cryptocurrencies and sustainable blockchain technologies closer to the masses; Our goal as Blocksize Capital is to help financial institutions specifically, to offer digital asset trading services to their clients, thereby reducing the entry barriers to blockchain technologies. The reason behind this is that there has been a significant increase in investors' crypto interest due to a tremendously fast-growing market over the last few years. Cryptocurrencies and digital assets are, therefore, rising as an attractive alternative asset class, with a large potential that ought not to be undermined. Moreover, the low correlation to other asset classes allows for portfolio optimization.
Key takeaways for institutional investors from our presentation at Blockchance 2021
Our Head of Sales & Business Development, Thomas Langbein, held a presentation in order to give a rundown of the usability of our trading solution for institutional investors. Beginning with an overview of the current market size and regulations, he then delved into the more concrete issues that institutional investors are dealing with regard to digital asset investments.
On a positive note, the European regulations for digital asset investment are becoming more concrete and stable, which are of significant importance for institutional investors. The Digital Securities Law (eWPG), the Fund Allocation Law (Fondsstandortgesetz), both in Germany, and the Markets in Crypto Assets Regulation (MiCA), on an EU-level, are important milestones towards a regulated market thus far. The former deals with enabling purely digital issuance of securities and it offers the first approaches for decentralized security registers. The latter allows special funds (Spezialfonds) to allocate up to 20% of their balances into crypto assets and is relevant for the majority of funds in the German market. It is also addressing a potential market volume of up to 350 bn USD. Meanwhile, the last (MiCa) is a highly anticipated package of regulations on an EU level, which initiatives are currently in the works.
Nonetheless, financial institutions are yet to offer more convenient and secure crypto solutions to their customers, and this is why it is equally as important to address the key challenges that institutional investors are currently facing when it comes to investing in crypto.
Infrastructure: There is a very limited access to an institutional-grade crypto infrastructure that allows trading, managing and storing digital assets. Furthermore, it is just as nessecary that this infrastructure allows for a seamless integration into existing legacy banking systems.
Liquidity: At present, there are over 500 crypto asset exchanges, and over 20000 crypto assets to choose from. Importantly, these crypto markets are highly fragmented and the single exchanges only offer a limited liquidity, contributing to highly complex manual trading. Additionally, there may be outages – even on large exchanges.
Transparency: The existing market data is insufficient – there is an evident lack of reliable market data for digital assets. Additionally, there are several different data sources for a single cryptocurrency.
Reporting: Currently, there are separate data sources for digital assets. This means that extraction of raw data is required for the purposes of institutional-grade reporting.
Security: Last but not least, institutional investors are facing a lack of solutions that are meeting the high regulatory compliance standards for financial institutions. This also implies the need for secure order handling and asset storage.
Our solution for institutional investors: cutting-edge digital assets trading suite, with the highest security and regulatory compliance features
Driven by the challenges above, the team at Blocksize Capital strove to provide a professional crypto trading solution, aggregating a wide range of crypto exchanges and liquidity providers that can be fully integrated into existing IT infrastructures. With full access through common standard API interfaces, our clients can enjoy low latency connection to multiple crypto exchanges, the highest liquidity thanks to the connection to the most liquid crypto exchanges, smart order routing for best price execution and automated post-trade settlement, as well as post-trade settlement with client-specific custody solutions. Our clients also get access to 500+ tradable combinations of crypto and fiat pairs, covering the most important cryptocurrencies on the market.
We also understand that comprehensive real-time market data is of utmost importance to every investor out there – this is why in our infrastructure you will gain access to real-time market data of the top traded cryptocurrencies, accompanied by continuous updates of all market movements. Finally, our clients can get access to institutional-grade reportings that cover all requirements for institutional investors. The reports are available as raw data files or printable pdf-exports.
All of these functionalities are available within our secure digital asset management suite developed in Frankfurt, Germany. It includes three solutions tailored to your trading and business needs: CORE™, MATRIX™, and QUANT SDK™.
Get in touch with us now and let us show you how with the help of our products, you can understand market opportunities, analyze your risk exposure, access aggregated liquidity, and execute trades with the highest precision.