Blocksize Capital & BCC Group – Partnering to Deliver Trusted Cryptocurrency Data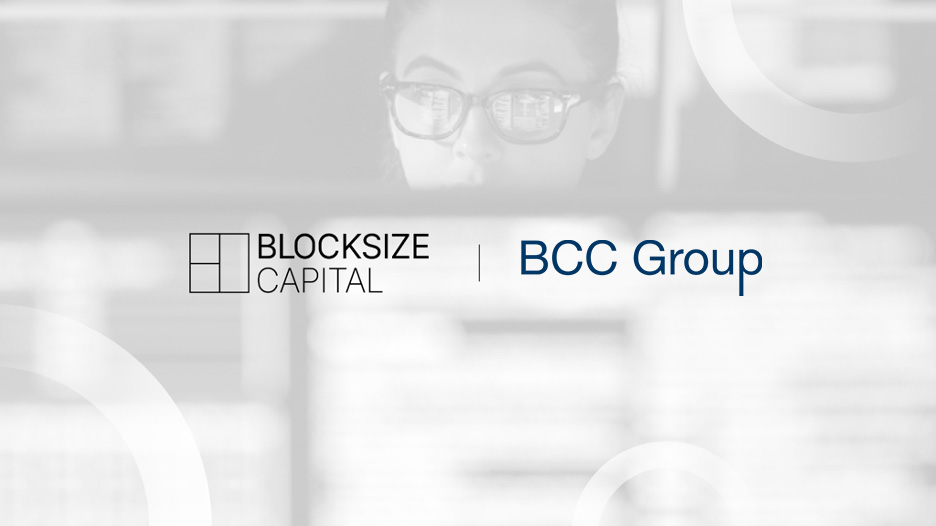 Given the recent news, trust in the cryptocurrency space is tantamount. BCC Group and Blocksize Capital are happy to announce a partnership to deliver highly trusted crypto data via any cloud.
As digital assets are adopted more and more among institutions, the need for consistent and reliable market intelligence in this space is increasing. A recent survey by Fidelity Digital Assets reveals that 54% of institutional investors view volatility as a main hinderance in adopting crypto. These concerns are exacerbated by the lack of reliable and trusted market intelligence (see Fidelity Digital Assets 2021).
Blocksize Capital leverages its solution BLOCKSIZE CONNECT to deliver accurate, reliable, and compliant crypto data. Market and reference price feeds include volume weighted average prices (VWAP) for all major crypto currencies. Being directly connected to multiple centralized exchanges (CEXs) and decentralized exchanges (DEXs), Blocksize Capital's proprietary infrastructure ensures highest quality and transparency using algorithm-based quality assurance.
BLOCKSIZE CAPITAL'S highly qualified and high-quality crypto data can now be provided in real time fully compliant and entitled from any cloud via BCC Group's ONE Solution. Customers can easily integrate with other market data sources through the ONE Platform and simply add Blocksize Capital's trusted source of crypto data. The platform has built-in multi-vendor entitlement and reporting system that allows for full control over any (market) data source.
Blocksize Capital is a leading technology services and data provider specializing in digital assets. Established in 2018, the company offers high-end infrastructure to analyse, trade and manage digital assets.
BCC Group is a software house that specializes in the development and delivery of high-quality software solutions in the financial industry. They provide connectivity for all (market) data sources. BCC's ONE Solution enables the world's first vendor agnostic, fully entitled and compliant distribution in any cloud.
Bringing in their deep expertise, Blocksize Capital is positioned to inject trust into the digital assets and cryptocurrency market. BCC Group will leverage their global offering in the cloud to help bring this trusted offering to market!