Blocksize Capital Is Now a Data Provider on the Chainlink Network, Helping Bring High-Quality Market Data to Smart Contracts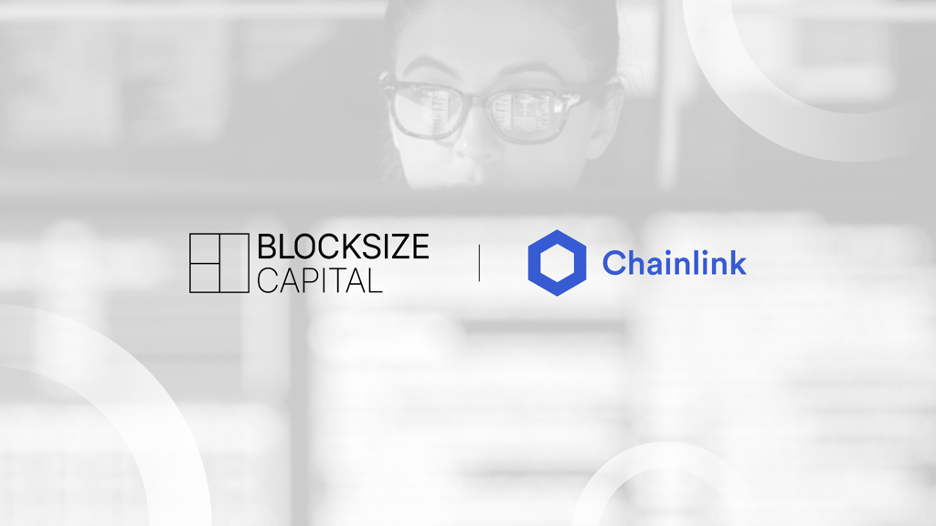 News, Success Stories
by Marketing Team
Blocksize Capital is pleased to announce that we are extending our successful collaboration with Chainlink—the leading decentralized oracle network in the blockchain industry. Blocksize Capital has been a node operator on the Chainlink Network for some time. We are now deepening this successful collaboration and expanding our integration into the Chainlink ecosystem by becoming active as a data provider, supplying reliable market data to the Chainlink Network and its vast collection of Sybil-resistant node operators.
Developers can now use Blocksize Capital's aggregated market data to support a wide range of smart contract use cases, including options and futures products, yield products, prediction markets, algorithmic stablecoins, and more. By making our data available to the blockchain economy, we're also opening up a new and growing revenue stream.
We chose to expand our integration with Chainlink and bring our data on-chain through an official Chainlink node because its decentralized oracle network is secure, future-proof, and is the industry-standard solution for connecting data providers with smart contract developers. This expanded Chainlink integration stands as a part of our commitment to building a world based on cryptographic truth and increases the value that being a part of the smart contract ecosystem brings to our firm and our partners.
Blocksize Capital offers professional digital asset trading infrastructure solutions, empowering financial institutions with cutting-edge technology that enables them to embrace the transformation of finance and capital markets through the new wave of digitalization. Our solutions are enterprise-grade terminals for securing, trading, and supporting investments in digital assets. Through a team of experienced financial professionals with extensive know-how in cryptography and distributed ledgers, we are transforming and improving financial infrastructure.
We chose to expand our collaboration with Chainlink because it provides a multitude of critical features, such as:
Credential Management — Chainlink nodes can securely manage API keys and account logins, leading to a seamless integration in which Chainlink nodes can purchase Blocksize Capital API subscriptions in the same manner that traditional users do today.
Blockchain Agnostic — Chainlink is blockchain agnostic, meaning our data can be made available on any current or future blockchain environment.
Widely Adopted — Chainlink is the most widely used oracle network in the blockchain industry, offering us access to a vast addressable market of potential data consumers.
Provably Secure — Chainlink is thoroughly audited open-source software designed according to leading academic research, already proven to secure billions of dollars in value live in production.
"We are excited to extend our integration with Chainlink by becoming a data provider on the network. By becoming a data provider on the largest decentralized oracle network in the blockchain industry, we're able to deepen our footprint in the expanding DeFi economy, open up a new revenue stream through the monetization of our premium market data, and help power smart contract innovation and the adoption of cryptographic guarantees in financial agreements."

Christian Labetzsch, Managing Director of Blocksize Capital
About Chainlink
Chainlink is the industry standard for building, accessing, and selling oracle services needed to power hybrid smart contracts on any blockchain. Chainlink oracle networks provide smart contracts with a way to reliably connect to any external API and leverage secure off-chain computations for enabling feature-rich applications. Chainlink currently secures tens of billions of dollars across DeFi, insurance, gaming, and other major industries, and offers global enterprises and leading data providers a universal gateway to all blockchains.
Learn more about Chainlink by visiting chain.link or read the documentation at docs.chain.link. To discuss an integration, reach out to an expert.
About Blocksize Capital
Blocksize Capital is a technology service provider specializing in digital/crypto assets, providing a professional end-to-end trading infrastructure for institutional investors. Operating as a single one-stop platform, Blocksize Capital's solutions enable access to 30+ crypto exchanges and liquidity providers, including professional trading features like smart order routing for best price execution and settlement. Blocksize Capital's digital asset management suite includes three solutions tailored to institutional investors' trading needs: CORE™, MATRIX™, and QUANT SDK™, and a market data solution Blocksize CONNECT™ that provides real-time average prices for digital assets in sub-second timeframes.
Created in collaboration with Chainlink, the world's leading oracle network for reliable market data, Blocksize CONNECT™ is available to customers from all over the world, with the ability to benefit from sub-second access to crypto assets trading data from more than 10 exchanges.
Learn more about Blocksize CONNECT™ by visiting the official product page.