Blocksize Capital now a live Node Operator on the Chainlink Network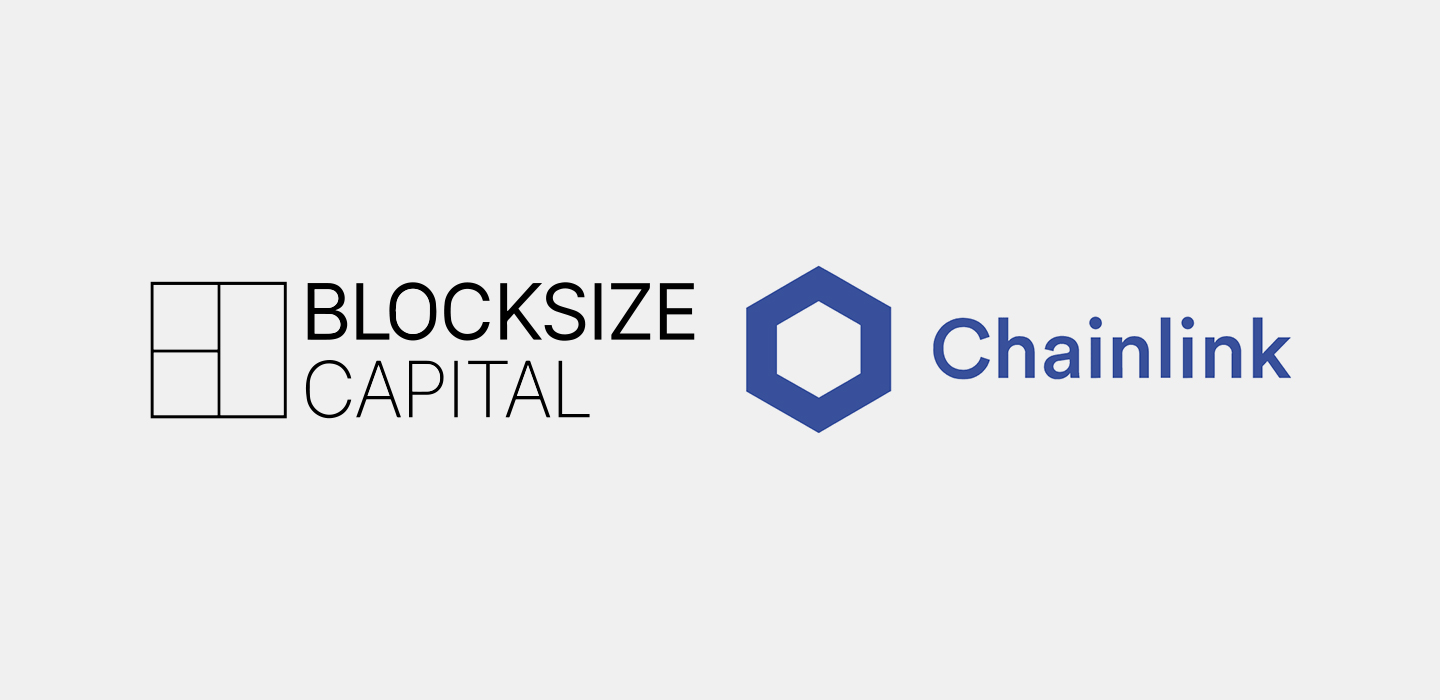 The greatest and revolutionary aim of blockchain technology, as envisioned by its creator Satoshi Nakamoto was to build financial inclusion. This has been the core reason for the widespread blockchain adoption and interest it has raised. For us, this is one of our biggest motivations, and we thrive on contributing to its further development.
Blocksize Capital follows the goal of making money and payments universally accessible and wants to use our established infrastructure to enhance the Decentralized Finance (DeFi) ecosystem with reliable and useful market data to trigger smart contracts enforcement.
That is why we are thrilled to announce that Blocksize Capital is now live on mainnet as a new Chainlink Node Operator, bringing further decentralisation to the network. In this role, Blocksize Capital is ensuring the secure and reliable transfer of external data to smart contracts, initially focused on servicing Chainlink's widely used Price Reference Data Contracts before expanding out into more use cases. Contributing to Chainlink's Price Reference Data feeds allows us to help provide DeFi projects with reliable and accurate prices to secure critical components of financial products such as determining collateralization ratios for lending and borrowing protocols, trading synthetic derivatives, triggering automated portfolio rebalancing, and much more.
We are excited to join Chainlink's market-leading decentralised oracle network — the most used oracle in DeFi and beyond, currently securing over 3B in value for leading applications like Aave, Synthetic, yEarn, Bancor, and more. Chainlink is also being utilised to power many other use cases like insurance and gaming, as well as being integrated across numerous leading blockchains, providing our node with ample opportunities to supply data to a wide variety of ecosystems.
What Blocksize brings to Chainlink
Blocksize Capital is a software provider focused on DLT and Blockchain-based assets. Delivering trading infrastructure to financial institutions, Blocksize Capital offers terminals to manage and trade digital assets. By doing so, Blocksize Capital's sophisticated systems capture, normalise, and aggregate market data and provide it to customers via API. We intend to offer this data reliably within the Chainlink ecosystem to reinforce their services with relevant information.
We have extensive experience as a technology provider, hosting nodes for NASDAQ listed companies, Corda, and more. Through our salient crypto-trading infrastructure, consisting of Blocksize Core™ & Blocksize Matrix™, we currently process over 1 Billion market data updates per day. Our infrastructure as a Node Operator is secured by a Virtual Private Network complete with fallback Chainlink and Ethereum nodes to ensure 100% up-time. To support it and guarantee secured data, we have an allocated team on standby 24/7 to maintain the infrastructure.
Becoming a Chainlink Node Operator aligns with our vision of transforming the financial industry and other existing business models with the use of blockchain and DLT.
Blocksize Capital has the ultimate goal of mastering the pulse of the markets and the challenges of the ever-evolving digital world while promoting financial inclusion. Hence, we also provide custom-tailored software solutions based on digital assets to further develop the Open Finance ideal.
Adressing the Oracle Problem
Most smart contracts are written about the occurrence of events, with hard coded logic on how the contract will react depending on the outcome of the event. In order for that logic to trigger, smart contracts often require off-chain information since there is extensively more data about events outside the blockchain than inside it. The blockchain cannot reach out and get this information on its own, a limitation known as the "oracle problem".
Financial contracts in particular need market information, such as price changes, interest rates, FX rates, and more. Given the increasing traffic of alternative financial services being run on blockchains via smart contracts, overcoming the oracle problem is critical for the success of the entire blockchain and DeFi space. Doing so, requires secure and reliable infrastructure on par with the underlying blockchain, as well as access to premium off-chain APIs, such as high-quality and high-volume market data from technology providers with the capability to provide reliable coverage with minimal downtime.
This is why we are so excited about Chainlink, since it uses decentralisation of secure nodes and high-quality data sources, along with other security techniques to ensure smart contracts on any blockchain can get the data resources they need in a highly available and tamper-resistant manner.
In the future, we plan to also become a reliable Data Provider to the Chainlink ecosystem directly through our Node, which will allow smart contract developers to easily access our uniquely aggregated market data. By providing our high-volume & low-latency data, transferring it onto the blockchain, and maintaining a secure node infrastructure, we increase our operational benefits.
Regarding this integration with Chainlink, Connor Payne, Head of Decentralized Finance at Blocksize Capital, said, "It is without a doubt that decentralised oracles are integral to the success of the DeFi ecosystem. Chainlink has proved itself to be the most established and reliable option for ensuring that smart contracts obtain secure, accurate, and reliable off-chain data. At Blocksize Capital, we are very pleased to participate as a node operator and in the future as a data provider".
Leading the market pulse
Blocksize Capital is proud of facilitating the adoption and advancement of digital assets. Certainly, this marks a great first step towards a long road of important and exciting improvements to the whole infrastructure of digital assets. We are building the future of finance, through secure, transparent and efficient applications.
Offering our services to enhance technologies such as Chainlink as both a Node Operator and eventually as a data provider, aligns with our promise of delivering quality and excellent services for the new way of doing finance. For us, it is clear that technology is a gateway for new growth opportunities. As leading software providers for digital assets, we understand this change as an opportunity to evolve.
About Chainlink
If you want to run a Chainlink Node or get connected to existing nodes, visit the developer documentation or join the technical discussion on Discord.
Chainlink is a general-purpose framework for building and running decentralized oracle networks that give your smart contract access to secure and reliable data inputs and outputs. It provides oracles to leading DeFi applications like Synthetix, Aave, and Kyber Network; numerous blockchains such as Ethereum, Polkadot, and Tezos; and large enterprises in Google, Oracle, and SWIFT.