BLOCKSIZE Joins the Expanding Pyth Network Oracle Project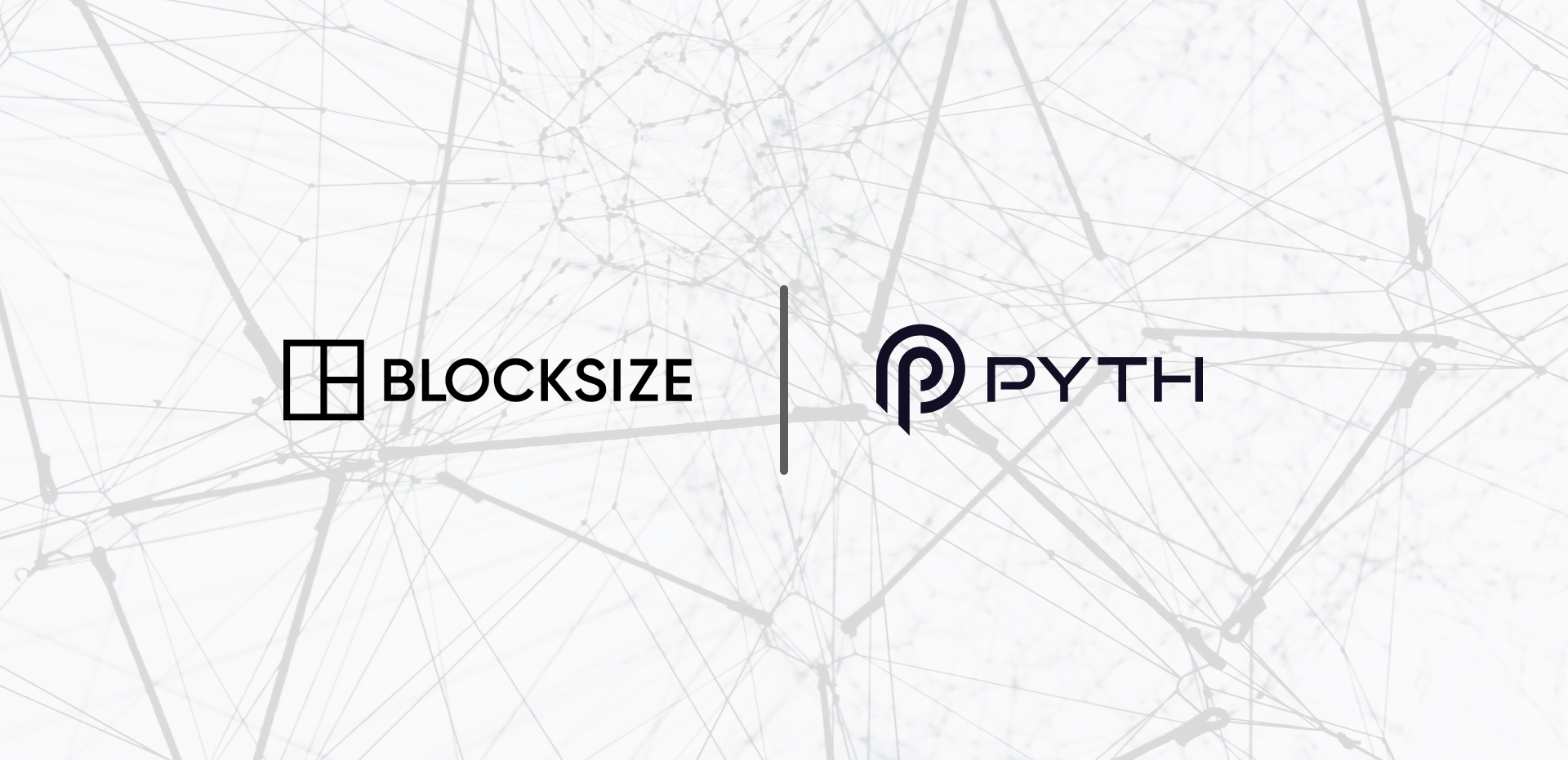 Today, BLOCKSIZE is announcing its official partnership with the expanding Pyth network by publishing its unique data directly on-chain. Pyth is a leading financial markets data oracle, and BLOCKSIZE joins nearly 85 other institutions contributing their first party price data directly to the blockchain, helping provide reliable price access to projects and protocols being built in DeFi and Web3.
BLOCKSIZE is a top-tier provider that offers institutional-grade, compliance-focused data solutions, focused on the financial industry. The expertise in delivering high-fidelity data sets that meet regulatory requirements has earned BLOCKSIZE a reputable status in the centralized and decentralized financial markets.
BLOCKSIZE's decision to publish data on the Pyth network is driven by the need to deliver accurate, real-time data to smart-contracts and ultimately their users in a secure and transparent manner. Dr. Axel Lode, Head of Decentralized Finance at BLOCKSIZE commented, "Our reputation for providing quality market data that meets regulatory standards is unparalleled — this holds for both on-chain and off-chain data delivery. We are excited that BLOCKSIZE joins the reputable club of data publishers in the Pyth network. Pyth's commitment to delivering reliable data aligns perfectly with BLOCKSIZE's values, and we believe that together, we can take the Pyth data feeds' quality to new heights by adding BLOCKSIZE's contribution."
"Whilst Pyth has managed to onboard some of the largest trading firms and exchanges globally as publishers to the network, continuously expanding our blockchain infrastructure and crypto engineering expertise is of paramount importance for continued success. It is with that context, that we are super excited to welcome BLOCKSIZE, an institution that not only can provide unique data to bolster Pyth feeds, but also understands how to reliably manage critical infrastructure like oracle networks" added Marc Tillement, a Director at the Pyth Data Association.
With the inclusion of BLOCKSIZE's data on the Pyth network, developers and users can rest assured that they are tapping onto BLOCKSIZE's top-quality data which is transparent, reliable, and compliant. This partnership is expected to strongly support and underpin the quality and security of data delivered to and consumed by smart contracts. BLOCKSIZE and Pyth set out for paving the way for new possibilities in the world of decentralized finance.
About Pyth
Pyth is a first-party financial oracle network designed to publish continuous real-world data on-chain in a tamper-resistant, decentralized, and self-sustainable environment. The network incentivizes market participants — exchanges, market makers, and financial services providers — to share directly on-chain the price data collected as part of their existing operations. The network then aggregates this first-party price data on-chain and makes it available for free to either on- or off-chain applications. More details are available here: the website, whitepaper, docs, and wiki. Website: https://pyth.network
About BLOCKSIZE
BLOCKSIZE enables financial institutions to embrace the transformation of digital asset markets through its market data, consulting, and software services. This way customers can overcome entry-barriers concerning blockchain solutions and safely act in digital asset markets. Offerings of BLOCKSIZE include:
Bank-grade crypto price feeds
Compliant staking infrastructure for banks inside their own data center
Nodes for several different blockchains and oracle networks
Custom designed oracles for financial data providers
Consultancy support using blockchain and financial experts
BLOCKSIZE is headquartered in Germany and brings German excellence in engineering, compliance, and stability to its customers. The BLOCKSIZE solutions work reliably and are compliant in financial markets. Website: https://www.blocksize.info